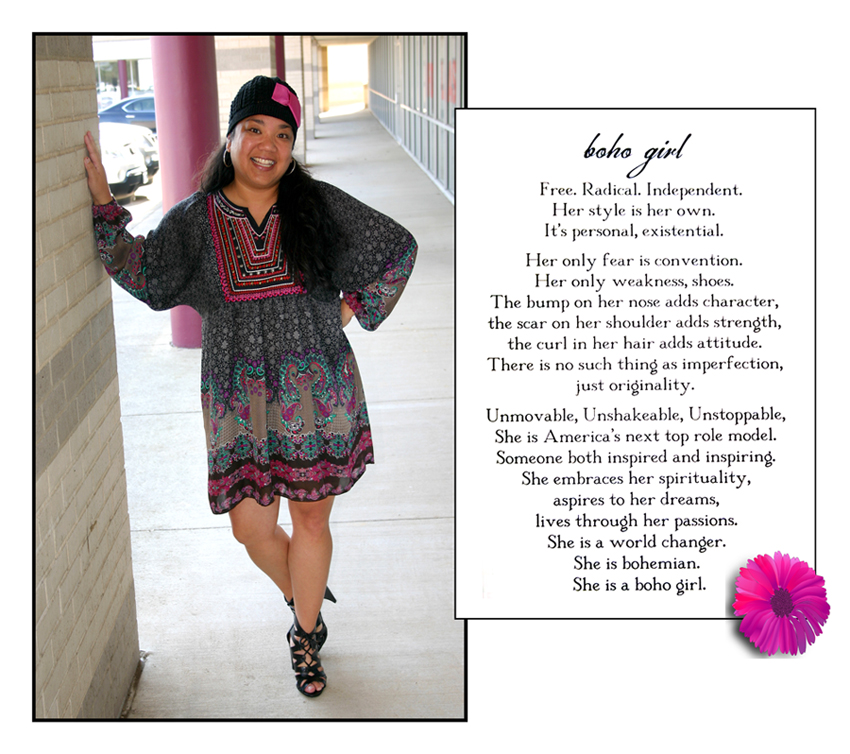 In honor of the vintage fashion show I'll be attending this weekend, I'm posting my new favorite 70's style Boho outfit, along with the coolest statement I found online (click on the image above to read it)!
I picked up this gorgeous paisley-patterned gem at Clothes Mentor in Plano.  The embroidered bib is just what it needed to pull all of the colors together on this $8.00 masterpiece.  Yep, you read it correctly, only 8 buckaroos! :)  Couldn't pass on these cute faux lace up shoes at Target (hello, $7.48) and a fun pink bow beanie at Kohls ($4.80).  Can you say, "Super Shopping"?!
OK, so I had to splurge a little for my tailor to create some elastic cuffs, but now they won't get caught in the dirt when I'm planting my herb garden…yeah, or in my hair while working up some sweet dreadlocks…he he! 🙂
In business and at home, what styles do you lean toward on a regular basis?
MsMona
Share
Leave a Reply