Author: msmona // Category:
Tips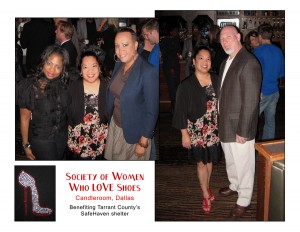 I've recently started volunteering with "Society of Women Who LOVE Shoes", a non-profit organization focused on helping women and children suffering through domestic violence.  Although monetary donations are happily accepted, I learned that ONE pair of shoes can bring so much joy and confidence to a woman trying to exit a turbulent relationship.  Well sign me up, Sister
– let's give these ladies some support!
The Husband took me to the latest SWWLS event at a swanky little club in Dallas called the Candleroom.  I threw on this simple floral babydoll I picked up on a Macy's clearance rack with a bolero jacket.  Love it when a cute top doubles as a mini dress for me!  Woo Hoo!  The lace accents were a bonus and added that little feminine touch I needed for the evening.  OMG, aren't my gals, Katrina and Andrea, just beyond gorgeous?!
  It was wonderful to volunteer with them!
Sometimes I take my shoe closet for granted.  Now I try to remember the woman who would be excited to have just one pair for her first job interview, or something comfortable enough to walk the kids home from school.  Doesn't she deserve a great pair of shoes as much as the next girl?  Thank God for SWWLS and their mission of "Healing one sole at a time."
Volunteer in a city near you, or start a local chapter.  Join me, won't you?
  Facebook.com/SWWLS.Dallas
MsMona
Share
Leave a Reply