Author: msmona // Category:
Tips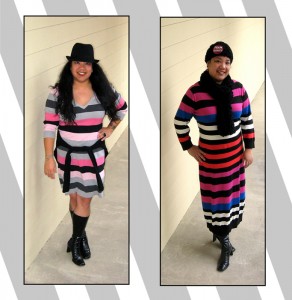 I totally understand: Â  Stripes can make us look short.
Newsflash – at 5 feet tall, I AM short! 🙂
Doesn't matter to me, STRIPES ROCK!  When I saw these adorable dresses, the colors are what caught my eye.  They both screamed "Girlie" (pink/gray I.N.C.) and "Fun" (multi Old Navy), so with each barely being out of the single digits, how could I say no?!  Simple black Walmart accessories were the warmer additions, while the hot pink "Team Naughty" 🙂 holiday pin on my beanie, well that just made me giggle…
As if you couldn't tell already, I've always been a fashion rebel.  What other styles or patterns do you love, but are considered no-no's by the Style Gods?
MsMona
Share
Tags: 1/2 of 1/2, Accessories, Colors, Patterns, Photos, Styles
Leave a Reply