Author: msmona // Category:
Tips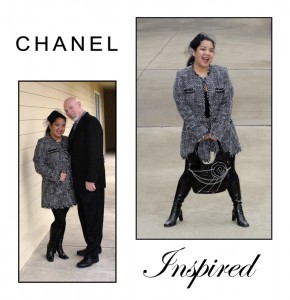 Merry Christmas to all MsMona readers!
What a beautiful day to spend with family, here and in spirit.  I thought about Mom and how stylish she always looked for church, so I chose this classic black and white Chanel-inspired outfit in her honor. 🙂 Would you guess the jacket and skirt are from different department stores?  I was lucky to find this $15.00 I.N.C. jacket at Macy's (originally $129.00) and mega clearance Allen B skirt at JC Penney.  Woo Hoo!
Mom also liked to accessorize, with hats being one of her fashion favorites.  I found this netted fascinator at Ross for only $14.99! 🙂 This type of popular headwear can be quite expensive, so I was happy to come across such a special piece.  My black patent purse with zipper and flower accents was a $5.00 bargain buy at Charming Charlie – I just removed these chain links from my skirt and clipped them to the front of the bag for a little extra shine!
I hope your Christmas was a magical celebration.  Happy Birthday, Jesus!
MsMona
Share
Leave a Reply