Author: msmona // Category:
Tips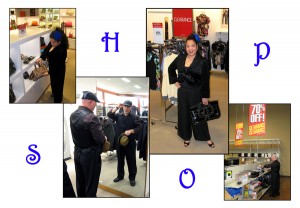 Superbowl Sunday doesn't have to be about football – for The Husband and I, it was about spending time away from the television to hang out with each other. 🙂
As you can see, we have different ideas of where to shop, but we both agree that browsing through weekend clearance sale racks is super fun, even if we don't buy anything! 🙂 Of course, we like to "dress up" when we go out and about, so we threw on some basic black pieces, including a fabulous I.N.C. cropped jacket I found at ReThreads in Dallas and my favorite layered palazzo pants.  And I'm loving this $5.00 purse I picked up at Hope's Door Resale – ooh, shiny!  Husband's striped button down from Target is one of those cool colors that change based upon the lighting.  Is it purple, burgundy, brown?  Whatever color it is, he looks GOOD wearing it!
By the way, SO HAPPY the Giants won!  Go Eli! 🙂
MsMona
Share