Author: msmona // Category:
Tips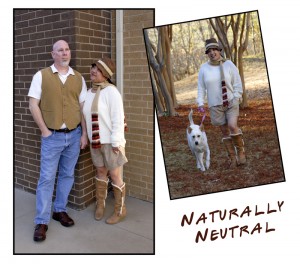 Welcome to a brand new year!  Time to leave behind the worries and fears that weighed you down – life is too precious and has so much to offer! 🙂
Speaking of lightening up…our current weather feels more like autumn with sunshine and blue skies accompanying crisp morning and evening temperatures.  The Husband and I dressed accordingly in neutral tones (and layers) to stay comfortable all day. 🙂 He looks great in his $2.99 ultrasuede vest from Goodwill, doesn't he?  Jeans and a polo were all he needed to keep it simple.
OMG, have you taken advantage of Old Navy's huge sale?  Everything I'm wearing (except for my old comfy Target scarf) is from their clearance racks at 50-93% off!  Unbelievable! 🙂
What wonderful adventures do you have planned for 2012? 🙂
MsMona
Share