Author: msmona // Category:
Tips
Do I LOVE me some costume jewelry – it's one of the simplest, and least expensive, ways to accent your outfits!  And when I find a funky little piece with a super clearance price tag?  Feels like I hit the fashion lotto!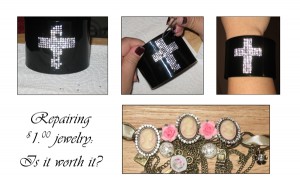 I visited Charming Charlie during their $1 jewelry sale and found these sweet bracelets.  Both of the cross cuffs had rhinestones missing, as well as the vintage cameo charms.  Can you believe the rhinestones were the same size for both?!  God is amazing.  So I put my crafting hat on and went to work removing stones from one of the cuffs to add to the others.  Just a few sticky fingers later…Voilà ! 🙂
Is it worth putting in some elbow grease?
Let's see:  the cuffs were originally $14.97 each and the charm bracelet was $12.97.  Hmm…I would have to say YES, definitely worth the small amount of time and effort.  Two bracelets as good as, well, from the manufacturer! 🙂
When was the last time you crafted a special piece back to life?
MsMona
Share
Tags: Accessories, DIY, Jewelry, Patterns, Styles
Leave a Reply