Author: msmona // Category:
Tips
You know when you find something so phenomenal, and even when it doesn't fit, it's such a great deal you just want someone to take it home? :)Â  OMG, check this out!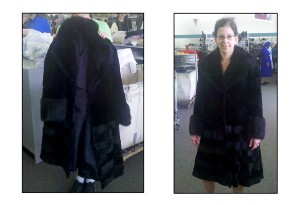 It was too small for Ms. Moi, but when the lovely lady in front of me said, "I need to shop where you do!", I knew this faux fur admirer and I would be friends forever. :)  Only $25.00 for a beautiful black coat while saving the environment?  You go Glamour Girl!
Have you used charity thrift stores to recycle from your closet?
MsMona
Share
Leave a Reply