Author: msmona // Category:
Tips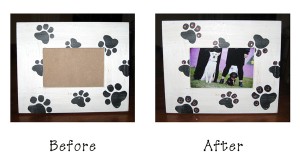 Spent a few minutes out of my hectic weekend to glam up this picture frame for my sweet babies, MOCHI (lab mix) and MISO (dachshund).
$3.30 frame on clearance at Nordstrom Rack + $3.00 scrapbooking rhinestones = a priceless memory of my Girls. 🙂
Hmm…how much do you think this frame would sell for in a department or boutique store?
MsMona
Share
Tags: DIY
Leave a Reply