Author: msmona // Category:
Tips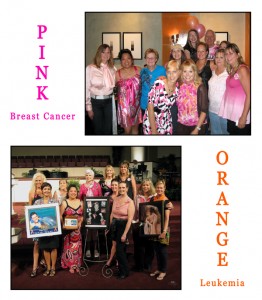 Wondering where Ms. Mona has been?  Off with my beautiful Survivor Sisters, celebrating one of our own. 🙂
Miss Angel, President of our Pink Band of Sisters, passed away on July 23rd.  She was a breast cancer survivor, then took on the challenge of a pediatric leukemia, found in only 1% of adults.  She was a fighter, since the day she was born.  I wouldn't put it past her to be sidling up to St. Michael the Archangel, shiny new sword in hand – "Hey Babe, bring on the battle!"
The Sisters threw a fun, intimate 40th Earthly Birthday party for Angel last week.  You see, our sweet girl was just five days shy of the big 4-0…so basically, she'll forever be in her 30's!  How cool is that?! :)  We donned our cutest Pink & Orange outfits to support Angel, her family, and each other.  At her weekend memorial we handed out hundreds of Pink/Orange combo ribbon pins to match the sea of guests at the church!  Wow, I just know she was up there beaming with pride.
Angel was always the advocate.  As an athlete and cancer warrior, she participated in numerous events such as Komen's Race for the Cure.  I am so proud that we also co-created our October "Survivor Sisters Fashion Show", which brings many new survivors out to enjoy a day of pampering and a walk down the runway. :)  One of my favorite memories was watching Angel get all dolled up before showtime.  So out of her norm, but she knew she looked GOOD!
I miss my friend.  I'll miss her big warm hugs.  I'll think about her giggles after a silly joke.  I know she'll be with us at every fashion show and Sisters event.  Most importantly, I feel safe knowing there's another angel watching over us as we continue the fight against cancer.  My very special Angel, who will always have my back.
MsMona
Share
Tags: 1/2 of 1/2, Clothes, Patterns, Photos, Styles
Leave a Reply